Bien is one of the building industry's prominent players in both Turkey and abroad, commanding attention with its innovative identity in design and its green approach and respect for nature. We had a pleasant chat with Bien's 

R&D

manager,

product

 

designer

,

and inventor Metin Murat Elbeyli on the company's extraordinary marketing expansion and investment process in recent years.
Could you describe Bien to us?
Part of Ercan Conglomerate, Bien is comprised of two main outfits; Bien Seramik and Bien Banyo. Bien Seramik was established earlier and was a company that manufactured building materials until 2017 when the decision was made to focus on products for the bathroom. We refer to these as Ceramic Sanitaryware, meaning all the white products in the bathroom as well as their supplementary items and faucets. Our ceramic sanitaryware factory and faucets manufacturing factory, which became active in 2018, have annual capacities of 1 million and 1.8 million respectively. In terms of the faucets, ours operates with the highest level of technology in Turkey, which naturally is a point of pride for us. We have another factory for manufacturing supplementary items that were likewise initiated in 2018.
When did you become involved in that process?
This is my 26th year in the industry. I joined the team four years ago to lend a hand to Bien and, from 2018 on, began operating research and development and design at the supplementary items facility in Bilecik. Within eighteen months We initiated the production of thirteen sets of toilet seats including all their production equipment, which is a rather ambitious number. Right afterwards, We focused on the production process of concealed cisterns, which is a kind of technical plumbing product. As you know, the wall-mounted toilet is affixed to the wall and works with a system that we refer to as a concealed cistern. The design process of the concealed cistern during which we made eleven patent applications, the patent application processes, and the production setup process were completed in an almost record seventeen months during which we worked virtually without rest. I must point out that Yetkin Patent & Consultancy was a great help to us during this time. We are currently focusing on smart products, electromechanical products, and their software. We plan to make an expeditious entrance into those concepts in the near future.
"We aim to be a trendsetting company, not a trend follower."
Our aim is to develop products that give the end-user an added value above other products in the same price range, rather than hold a top spot within the market in terms of prices. We set out with very young, very motivated, and dynamic people and caught the momentum of an excellent first wave. We aim to be a trendsetting company, not a trend follower! When one follows trends, one tends to allocate a great portion of energy to follow them, resulting in the inability to act independently of them. We produce 1.8 million faucets and 500.000 concealed cisterns and toilet seats annually. Though we started at high capacity in our newly erected facilities, we have already started working on doubling their capacities. These are capacities that only companies with 20-30 years in the industry can achieve. Rather than steamrolling our competitors and dominating the national market, we aim to compete in the international arena. There are mammoth corporations in the world markets that have given many long years and resources to research and development. For instance, while the world's number one manufacturer of concealed cisterns currently has twenty-four active patents, from the outset we put in nine patents and two utility model applications, making an ambitious entrance into the market.
So where does your enthusiasm for inventing come from?
Due to my interest starting in childhood in what was inside things and how they worked and functioned, and my efforts toward inventing something, I eventually received training in technical disciplines as well and went on to discover newer things in the market. I can count mechanical design, product design, electromechanical systems, electronic circuitry, software development, and merging electromechanical units related to smart products with software among my hobbies. I also have what I can call a modestly sized laboratory at home. 
What are the mechanisms behind your activity in the international market?
There is currently an endless demand for building materials in the world markets, likewise in the national market. We want to be an outstanding player in these markets because we know that we can be. I'm a manager at this company, but I'm also a designer working tirelessly. We have great goals. We believe that we can cut ourselves a hefty piece of the pie of building materials in the exporting markets. Alongside that, it's paramount for us to make products that are guaranteed to be useful to the end-user.
What kind of work are you doing around the topics of global warming and water wastage?
The greatest wastage that uncontentious users cause happens in the shower stall or bathtub. Assuming that our users are contentious, however, the great wastage that's out of their control has to do with the functions of the toilet; which is why the concealed cistern, referred to as a technical plumbing product, is one of the most important. For the toilet to perform all its functions with minimal water wastage, design is imperative. So we are currently working on toilets that can function with 2.5 liters of water, and we've adjusted our cistern accordingly. The toilet can perform its functions with even less water, but that causes problems in the network as that amount of water is insufficient for buildings' infrastructure in the cities. While our highest-function toilet is 4 L, there are markets in the world that still manufacture toilets that run on 6 or 9 L. Yet ultimately everyone will have to adapt, as the planet's water doesn't just vanish, it's still here. It's only the clean water supplies that we can access being pulled deeper underneath the planet's layers.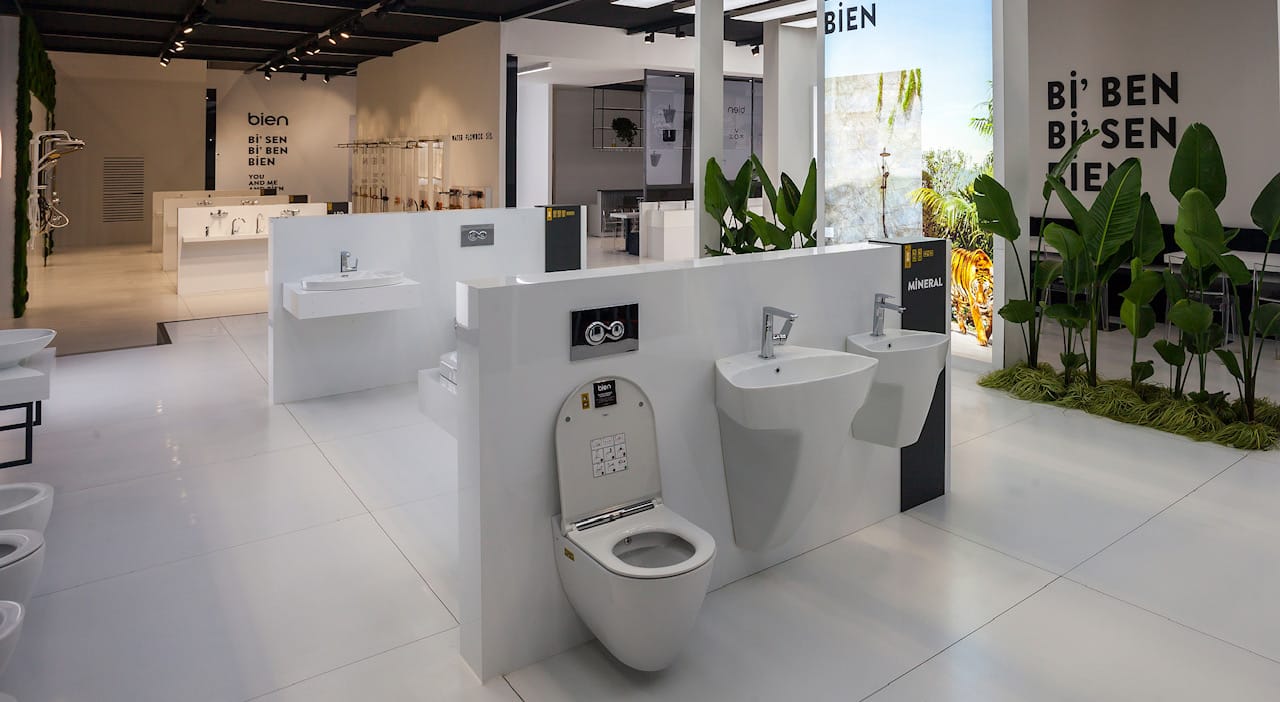 Not only are we obliged to monitor our production facilities' carbon footprint, but we are sensitive about it as well. Our current agenda is to reduce our carbon footprint to the minimum in everything related to the products, down to the packaging. Another issue we are focusing on is the chemical materials used in our products' sanitation and even eliminating the need for these products. We have developed a secret technology named "MagicClean" that prevents dirt from clinging onto the surfaces of Bien ceramic sanitaryware products. We are also working to raise awareness among our customers via specially designed QR codes placed on the easily removable products, and cute little tags to give the end-users a message. Right now, there are seven QR codes on a concealed cistern that each direct the user to a different location, so it's an interactive ecosystem that's easily accessible through your phone. There is a 12-second video on installing the product, for instance, or another QR code for the personnel that comes to service a product that was installed years ago. We've named this the "EasyLearn" program. It's an experience-enhancing program that we hope to help us reach out to the end-user and in terms of its intensiveness, we are the first in the international industry to do this.
Interview by: Nazli Sagdic Pilcz
Translated to English by: Zeynep Beler