Turkish breakfast is among the country's finest culinary rituals and while the most important meal of the day is cherished and taken seriously throughout the country, its heartland is the eastern city of Van.
Van and breakfast are synonymous in Turkey, serving regional delicacies such as the famous herbed cheese, a slightly crumbly, potent cheese spiked with an herb called sirmo, growing on the highlands and mountain skirts of the city locally referred to as 'wild garlic' made with milk obtained from the animals that graze on these plateaus.
Guinness record for the "world's most crowded breakfast table"
Historically there were places called 'milk houses' in 1947 in the city, and these places were opened during the morning prayer. The tradesmen opened their offices in the morning and made their breakfast with hot milk, bread, and buns in these places. The fact that Van is located on the Silk Road route also contributed to the development of this breakfast culture.
It was here in Van on June 1, 2014 that the Guinness record for the "world's most crowded breakfast table" was broken. A total of 51,793 people enjoyed a meal that morning with the backdrop of the ancient Van Citadel, which dates back to 800 B.C.
Original Van breakfast sometimes includes as many as 50 items. The city has at least 35 dedicated breakfast salons and a street (Kahvaltıcılar Çarşısı, or Breakfast Street) lined with eateries that only serve breakfast, the likes of which have been sprouting recently in western cities like Istanbul and Izmir.
YUSUF KONAK & BAK HELE BAK
Bak Hele Bak – its literal translation being "Look at That." Bak Hele Bak was founded by the owner Yusuf Konak in 1975. Yusuf Konak is a pioneer who is devoted to promoting Van Breakfast both in Turkey and abroad.
With Yusuf Konak's own words; "Culture has no party, no religion. Within culture there are people, and people are equal. For that reason, this is a house of breakfast culture."
Yusuf Konak describes his restaurant as a "Palace of Breakfast and Culture". The breakfast hall is very busy especially in the morning, sumptuous tables are set up, and the waiters keep filling the empty teacups immediately. It's more of a cultural activity than breakfast. In between, Yusuf Konak provides his guests a unique breakfast entertainment experience with jokes, poems, and riddles to prepare them for the challenging day ahead. It's important to remember that all of this is happening at 8 a.m. In the restaurant where breakfast is served 24/7, cultural activities, sira nights, poetry recitals, and book clubs are also organized in the evenings.
Bak Hele Bak's Manager Fariz Gül defines Van breakfast as a cultural value and says "We do not see breakfast as a meal it's more of a pleasure, and we like to welcome people from all classes of society together under the same roof. They're more like guests to us than customers. Van has unique hospitality."
Van Yüzüncü Yıl University (YYÜ) and the Provincial Directorate of Culture and Tourism have applied to the Turkish Culture and Tourism Ministry to include Van's distinctive regional breakfast on the UNESCO Intangible Cultural Heritage List.
Kavut, one of the local flavors of Van breakfast, is prepared by roasting wheat flour in butter and is incredibly delicious when eaten with honey or jam. Murtuğa is a dish made with flour, butter, and eggs. The flavor of murtuğa comes from its preparation in a copper pan. Cacık, which is one of the important elements of breakfast, is also different in Van's breakfast cuisine. Strained yogurt should contain dill, parsley, and a pinch of chili. Dry cottage cheese is also added according to the desire. The indispensable part of this delicious breakfast is tandoori bread, which has become a brand with Van. Van breakfast is delicious with its warm tandoori bread. Of course, we should not forget the cream, rose jam, cheese, olives, and jam. Van breakfast menu consists entirely of natural and domestic products. It is served between 20 to 35 varieties, depending on the season.
Fariz Gül describes Van herbed cheese as "a masterpiece". We should add that in the archaeological excavations carried out in the historical Hoşap Castle in Güzelsu Neighborhood of Gürpınar District of Van, there were herby cheeses from 250 years ago in 4 cubes and there were herby cheese cubes from the Urartian period in the archaeological excavations carried out in the same region.
Fariz Gül stated that they have been closed due to the pandemic for the last year and that they miss their guests, breakfast lovers very much, and hope to return to the old days as soon as possible.
VAN
The ancient capital of the Urartian Kingdom which ruled eastern Anatolia and northwestern Iran between the 9th and 6th centuries BC. Their political power is reflected in their architecture; you can see the ancient citadel, magnificent city walls, rock graves, obelisks and engravings surviving from the kingdom. Nearby is Lake Van, the largest in the country and home to the idyllic Aghtamar Island, where grey rabbits can be found scampering around a 10th-Century Armenian cathedral. Being the largest lake in Turkey, locals prefer to call it the "sea" and its shore the "beach." Thanks to the lake, Van enjoys a breeze like no other in this otherwise harsh climate. Van is an hour's drive from Iran and feels like a border town. In late spring, the weather is hot but dry, and cools down in the evening. Verdant mountains dominate the horizon, while the lowlands are dotted with wildflowers.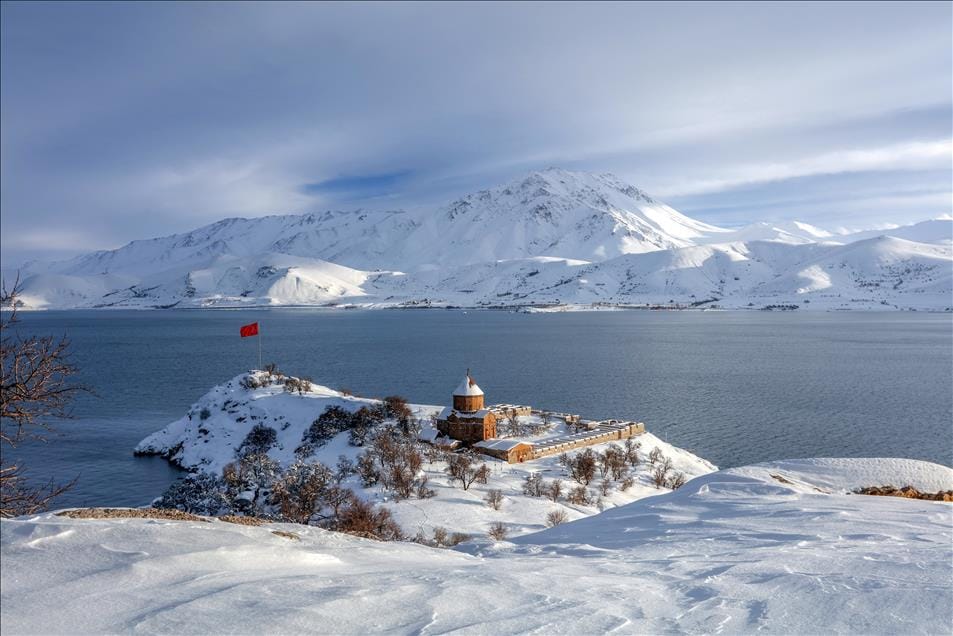 Interview by: Nazli Sagdic Pilcz